I am slowly coming to terms with the fact that I am becoming my father, and lately, the reality of this has become even more apparent based on my choice of exercise videos. My Dad is the champion of beach workout videos, and if you've never seen Gilad, the Israeli born exercise fanatic, well then let's just say he invented the workout cliché of exercising in a beautiful setting (click here for a taste). Now, it seems, I've now become the latest sucker to enjoy beach workouts. Behold my latest fitness obsession: Boho Beautiful!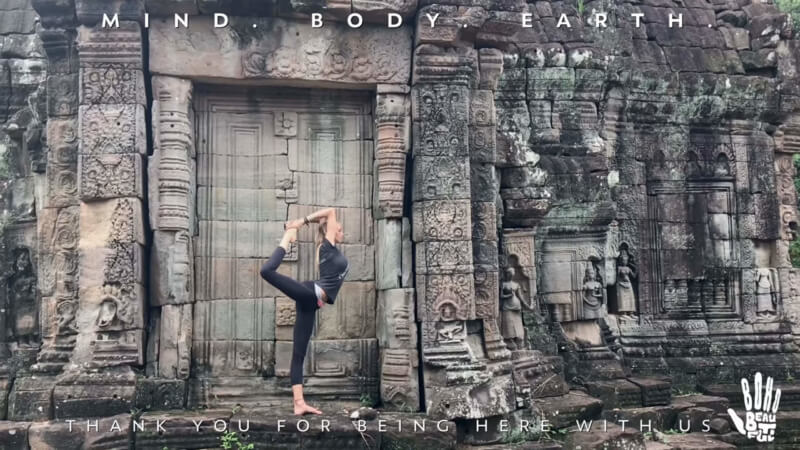 I've wanted to get good at yoga for years. After a few classes in Los Angeles, a favorite but soon canceled yin yoga class in San Francisco, and many attempts at finding a studio where I live now, I decided that YouTube was the right choice for me. I am okay with yoga classes in general, but to actually get better, I wanted to commit to doing it every day without paying $20 for a daily namaste. I also like to keep my flexibility private (it's a work-in-progress), because when I see people in classes going much further, I tend to over-push myself leading to lower back issues and misalignment. Plus the whole idea of being zen works better for me alone.
So I checked out YouTube – hey it's free! – and I thought I might find something to figure out if my yoga ambitions were actually in line with reality. I quickly found Boho Beautiful, a YouTubing married couple that travels the world while doing yoga. I tried one video, and I was hooked. Juliana's calming, yet energetic voice, combined with her amazing figure make me feel great while working out. Not only do I think I look like her while I'm doing it (I don't!), I also get the added benefit of beautiful scenery, warm sunny settings, and much cuter workout clothes than I bother to wear. And I'm doing the yoga! Win, win.
And check out some of these locales:
They have a vast collection of videos on YouTube, from beginner to advanced, all of which are about 20 minutes long. It's not a whole lot of time, and the videos go by fast, so I often stacked two or three together when I was feeling good and energized. After a few months, I knew this was a class I was really into, so I decided to search for longer videos from other YouTubers. But from the indoor sessions to the different ladies, I found that Boho was the class that had my heart.
I immediately signed up for the couple's Patreon account, and I pay $10 a month to have access to about 10, hour-long videos (they add a new one every week or so). Let me repeat that, I pay $10 A MONTH, for a bunch of hour-long workout videos! I feel great about supporting their channel, and in return, they help me feel great while doing the yoga.
If you have a few minutes today, give my favorite beginner video a try:
All these years my sisters and I have been teasing my father about his love of beach workouts, but now I think he might have had it right all along!
Check out the Boho Beautiful website and YouTube channel for more information and videos! If you're interested in longer classes, consider supporting their Patreon or purchase a downloadable course. And let me know if you get around to trying one of their classes, I'd love to know what you think!
Photos and videos via Boho Beautiful.