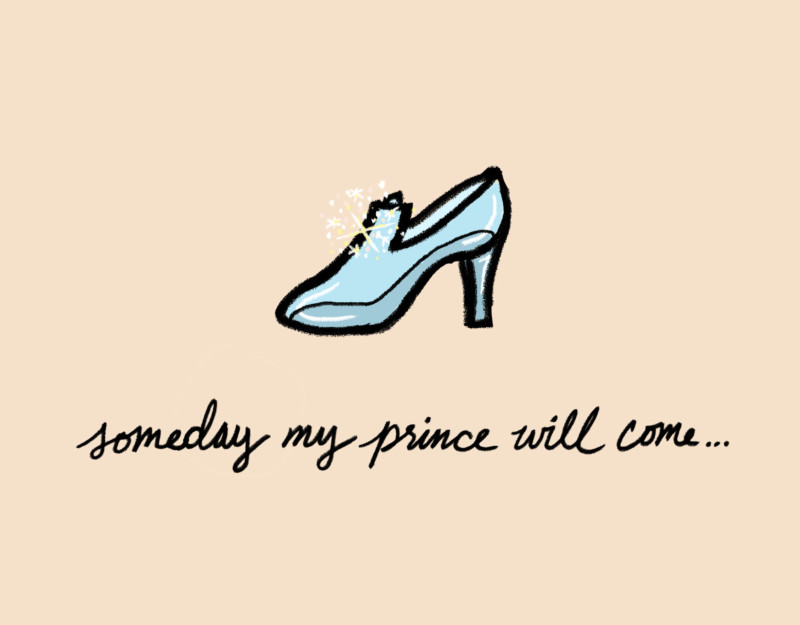 I remember the moment like it was yesterday…I was 25, living in San Francisco, and perched on my grey leather sofa watching my favorite childhood movie, Disney's animated Cinderella, on ABC family. After singing along to all my favorite melodies (I love you, Bippity Boppity Boo), I was cozied up under a blanket waiting for our heroine to get locked in her tower. And then it struck me like a hundred glass slippers crashing through the ceiling: why the heck didn't Cinderella just pack up her rags and mice, and leave her awful stepmother?
Suddenly my favorite movie growing up brought on a more sinister air.
I absolutely love the story, but it's not even close to being a modern tale. Essentially Cinderella is mistreated by her stepmother and sisters and works as an indentured servant until she is rescued by a prince. To be accurate, there are some mice friends who help her escape, but mainly she waits to be saved. In fact, I don't think it even occurred to her to leave at all – she might have stayed miserable in that old house until she was old and decrepit. So what does that say about Cinderella and the example she set for me as a young woman? Let's just say it wasn't good.
At the time of this grand realization, I was struggling with depression, unsure about my direction in life, and deeply insecure about how to achieve anything. It isn't that I expected things to fall in my lap when I wanted them, but I didn't have my head on straight about how hard I needed to work to achieve my goals, or that it was even up to me. I was angry at the world, my parents, and school for not helping me find my purpose. I didn't take into account my own choices for where I was, that I was in the driver's seat, and no one else was responsible for where my life was headed. I was locked in the tower with only myself to blame. And I think I was waiting to be rescued. Just like Cinderella.
A lot of us wait for others to give us permission to be happy, to move on from a relationship, or even to do a simple project. What I urge you is to not be my sweet girl Cinderella. Storm the tower yourself, own your choices, and if things don't make you happy, know that you have the power to change them. Because while it's really romantic to think someone will come and pull you out of the hard place you're in, you might end up waiting an eternity for that happily ever after. What I realized that day was that I didn't want to sit in the spire until someone came to my rescue, I wanted to save myself.
And so I did.
Have you thought about how much influence Disney movies have had on your life? Share your insights in the comments below! And I must add that I'm super happy the new animated films, like Moana and Frozen, are all about empowering young women – boy, could I have used those when I was a kid! Also if you didn't catch last week's opinion article about my oldest childhood memory here!