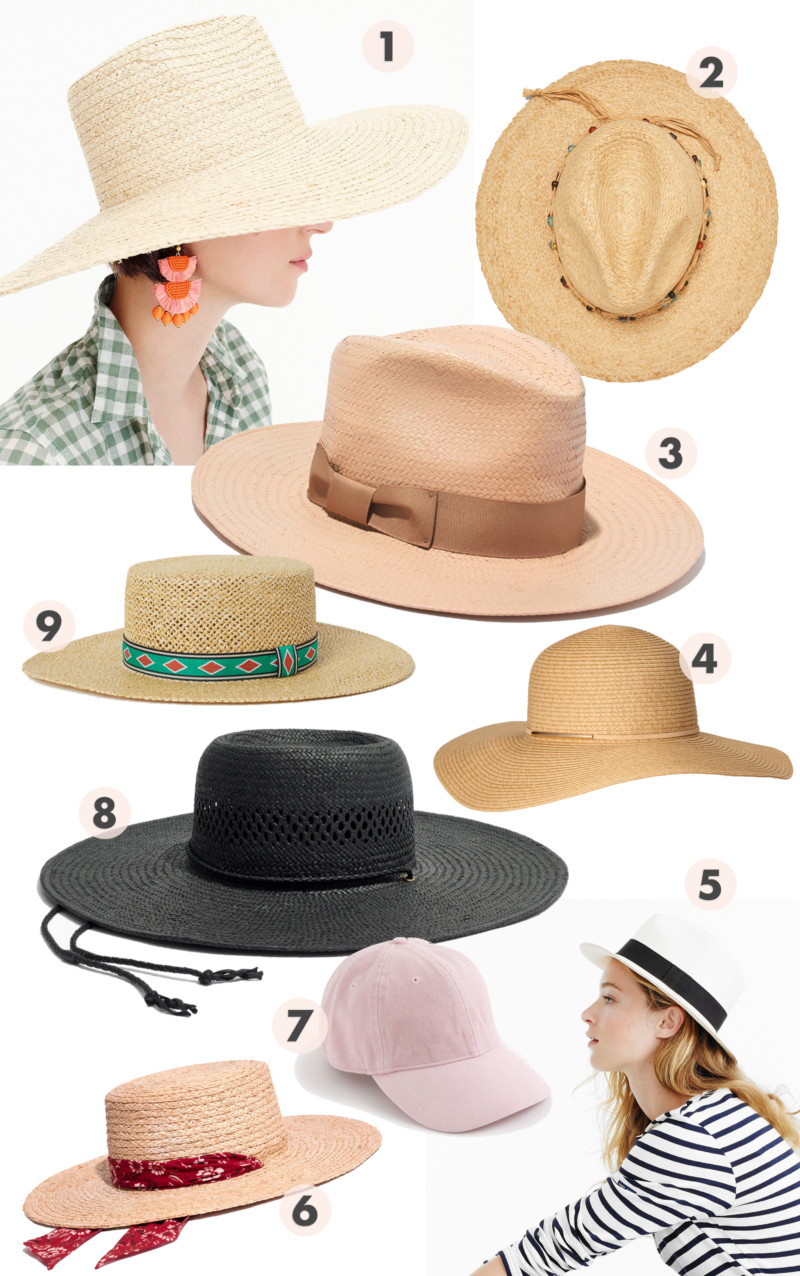 Who doesn't love a good hat? From a statement accessory to a tool with serious sun protection, hats should be an essential staple in your summertime wardrobe. Since I often post loftier priced chapeaux on here (that is French for hats, people!), I thought it'd be smart to curate a few more affordable options – especially if you're just dipping your toe into the cranial accessory department. Check out my picks below!
1. J.Crew Sun Hat – A gorgeous, simple hat like this one is all you need for summer. From gardening to beach reading, you can't go wrong with a light neutral straw. It's classic.
2. Zara Beaded Raffia Hat – I love this simple, short-brimmed topper. The beads give it a casual, beachy look that you'll be able to wear for years.
3. Madewell Panama – In a gorgeous ecru, this tailored hat is the perfect accent to long linen pants and structured tops. And oh, that color!
4. H&M Straw Hat – Coming in three colors, you can't really go wrong with this sophisticated chapeau. The gold detail around the brim is a nice touch and at $15.00 it looks more expensive than it is.
5. J.Crew Panama – My gateway hat was this classic white Panama that I wore nearly everywhere for an entire season. This style, in particular, looks flattering on most everyone, so if you'd like to give hat wearing a try, I suggest this as an excellent place to start!
6. Madewell Bandana Hat – Perfect for summer picnics, barbecues, and low-key hikes, this flat-topped boater is so cute and comfortable.
7. J.Crew Baseball Cap – Sometimes I love a good baseball hat to throw on between workouts or errands, and this one fits the bill. Fun and flirty in pink, it wont look like you borrowed your boyfriends old sports cap to grab groceries.
8. Madewell Stampede Hat – I picked this one up in natural straw to use as a hat for gardening, but the black is much more dramatic and stylish to wear for summer. Though slightly hotter, I'll admit!
9. H&M Straw Hat – This super affordable hat ($18!!!) has the cutest fabric brim with lovely green and diamond details!
And there you have it! If this is your first time looking to buy a hat, be sure to try a few different colors, heights and brim sizes. Just like every other style accessory, not every kind of hat will work with the shape of your head and face. I, personally, like wider brims for my long face, but others look magnificent in smaller hats. I'd also recommend choosing a structured cap first, as they're more natural to wear and more complimentary. And if all else fails, a cute baseball hat will surely keep the sun off your face!
Do you own any hats? Share with me in the comments below!