When I first saw Lauren Holton's fantastic embroidery on Instagram, I instantly fell in love with the designs and textures. Her undulating patterns reminded me of doodles I used to make as a kid (though undoubtedly much prettier) and of the rainbow of colors found in precious minerals and glittering geodes. Under the winged title of Lark Rising Embroidery, her work effortlessly elevates your Grandma's beloved "Home Sweet Home" embroidery of yore. Holton's got a fresh take on stitching, sometimes uses giant hoops, and hand illustrates all of her designs. She's also passionate about teaching others and is producing a how-to series on YouTube called Embroidery 101.
With themes like flowers, plants, and feathers, it's no surprise that her designs evoke the natural wonders of nature. They also create such visual satisfaction for people like me who love the long, silky shine of satin stitches. And while I'm more than excited to show you photos of her beautiful work, I was actually lucky enough to snag an interview with the Pacific-Northwest talent. So without further adieu, here's an inside look into Lark Rising:
It's amazing you started embroidering only a few years ago (in 2015!), how did you go from a love of music, DIYs, and other crafting arts, to settling on embroidery?
This is a great question. First of all, I still totally love making music – up until a year and a half ago I even sung in the adult audition choir in my city, and although I was nearly the youngest person in it, it was a wonderful respite for me during my week. I think I will always seek some sort of peace in musical pursuits. That being said, I love to keep my hands busy, and I have an insatiable creative soul. 
All of the other types of crafts I've tried had parts of the process that I didn't like–and I didn't like them enough that it kept me from enjoying it. Sewing has too much measuring, I can never figure out how to fix my mistakes in knitting projects, and I struggle with my ability to control mediums like watercolor (I'm kind of a control freak). With embroidery, I love that it lets my creativity flow–I can stitch just about anything I can dream up, from mountains and flowers, all the way to my favorite literary quotes. I'm also just really drawn to fiber arts. The tactile experience of pulling thread through fabric, using just the right amount of tension–I find it all very therapeutic. I could wax poetic about embroidery all day, but I'll finish off this question by saying that I also love the compact/portable nature of it, I can take it with me anywhere, and it is always just as I left it when I put it down and come back to it.
I haven't done any stitching since I was a kid, do you have any tips for someone who's interested in getting started or relearning how to embroider? How did you learn and what resources would you recommend?
I remember doing a cross-stitch project in the 4th grade and doing an extremely wonky embroidery project with my grandma when I was very young, but when I decided to try embroidery as an adult, I just dove right in, experimented on my own, and picked it up quickly. When I was just starting out with embroidery, I used this website, which has a comprehensive stitch dictionary, to figure out which stitches were which, what they were called, etc. 
Patterns can be a really great starting point for anyone wanting to try embroidery. There are so many out there to choose from that are suitable for every skill level! If you want to stitch up your own personal design but need help with the stitches themselves, I have a bunch of free video tutorials on my website here.
From your website and Instagram, it's obvious that you enjoy teaching. Why is sharing patterns such a passion of yours?
Transferring knowledge from person to person is how we all grow. In a teaching situation, both the teacher and the student are challenged to think critically and learn new things. The most wonderful thing about teaching embroidery is that not only do I get to transfer knowledge to others, but I can also give them some of my joy as well. I honestly believe that making something with your hands can be so rewarding, and I want to help other people achieve that same feeling of joy, relaxation, and accomplishment. 
My patterns allow me to teach so many people all around the world, which is incredible. People are stitching my patterns on every continent in the world (except maybe Antarctica–I guess their fingers are too numb there from the cold), and I love the idea that we are all connected through a shared experience. My favorite thing to see is the people that stitch a few of my patterns and then feel confident enough to begin their own designs – that's the real goal and is so rewarding for me to see!
I love your color palette and use of unexpected shapes, how did your previous artistic work lead you to discover the aesthetic you have today?
Honestly, I have almost no actual previous experience as an artist. Somehow embroidery was the thing that really unleashed everything that had been rolling around in my head all this time. I do, however, think I have a pretty good eye for design and color. Color is the thing that drives most of my work–I'll come up with a color palette that I'm dying to use, let it simmer for a while, and decide what type of content it's most suited to. I'm a big fan of both landscapes and interior design (they seem contradictory, I know), and love to pull inspiration from both of those places. I'm also very feminine, so I'm really drawn to floral designs, pink, soft textures, etc., and I think those things definitely influence my designs.
Sometimes it's hard for people to look at a finished work of art and see the process behind it, could you break down your design and execution procedure a little?
Sure thing! I'm not much of a drawer, so it takes me a while to translate an idea from my head onto paper. I start by sketching ideas into a little notebook, and once I get one refined enough, I'll transfer it to my iPad, where I use the Procreate app to continue drawing until I'm satisfied with my design (if I'm working with a really big design I skip the iPad step and stick to paper). At that point, I'll print out the design and trace it onto fabric. Once I get the image onto fabric and set in my hoop, I start deciding on colors. I usually already have a color palette in mind, but it still takes quite a while to choose all of the specific thread colors I'll need. 
Then I stitch. Embroidery is a slow craft. I don't think I've ever finished stitching a piece in just one day; most take anywhere from three days to three weeks, depending on how often I work on it or how many pieces I'm juggling. For example, the 6″ hoop I filled with my marbled design took me about 40 hours of stitching! After I tie off the last knot, I use a blow dryer to disappear the ink I traced the design with and close up the back of the hoop. It's all a long process, but I enjoy almost every part of it (the tracing is a bit tedious).
Where do you turn to for inspiration, and how do you stay inspired to create when you don't necessarily feel like it?
I've been really lucky so far, in that I ALWAYS feel like creating. I need to have a creative outlet in order to maintain a healthy headspace, so I constantly have ideas swirling around in my brain and am itching to get them out. Embroidery is such a slow process that I usually have a backlog of ideas that I'm waiting to stitch up. 
I pull a lot of inspiration from things in nature, such as flowers, sweeping landscapes, etc. but I also pull inspiration from things like beautiful quilts I see, fabrics, dabs of paint on a canvas, houseplants, and beautiful homes I see on Pinterest. I love art so much – in fact my home is filled with art I've purchased from other artists and makers, but I try really hard to pull inspiration from other non-art sources because authenticity is so important to me. I find that just being saturated in so much beautiful artwork can be inspiring in itself! 
That being said, I do often find it challenging to maintain the pace at which my business is going, keep up with the work I've planned out, etc. Running a creative business and being a full-time parent is exhausting! I have to remind myself regularly that my first priorities are always my child, my own health, and well-being, etc. It's easy for things to get out of balance as a work-from-home-parent to a three-year-old. 
What is the hardest thing about embroidery?
Hmmm, that definitely depends on the person. I think one of the most difficult things for people is that it just does go so slowly. We're all used to the instant gratification we receive from the internet these days, and we often struggle to slow ourselves down, to focus our eyes and hands on something that isn't a screen, and be patient with ourselves when the task at hand takes time. So in that way, I think embroidery teaches us some really good life skills.
How does your work express who you are?
My husband gave me a Kate Spade watch for my very first Mother's Day (I picked it out, obviously), and on the back it's engraved with the words, "Live colorfully." It's a motto that describes me fairly well, and I think that my work goes a long way in expressing it. My many interests and passions are fairly evident in the content of my work, but if you'll look closely, you'll probably notice that I'm also extremely meticulous a perfectionist, and a bit of an over-achiever!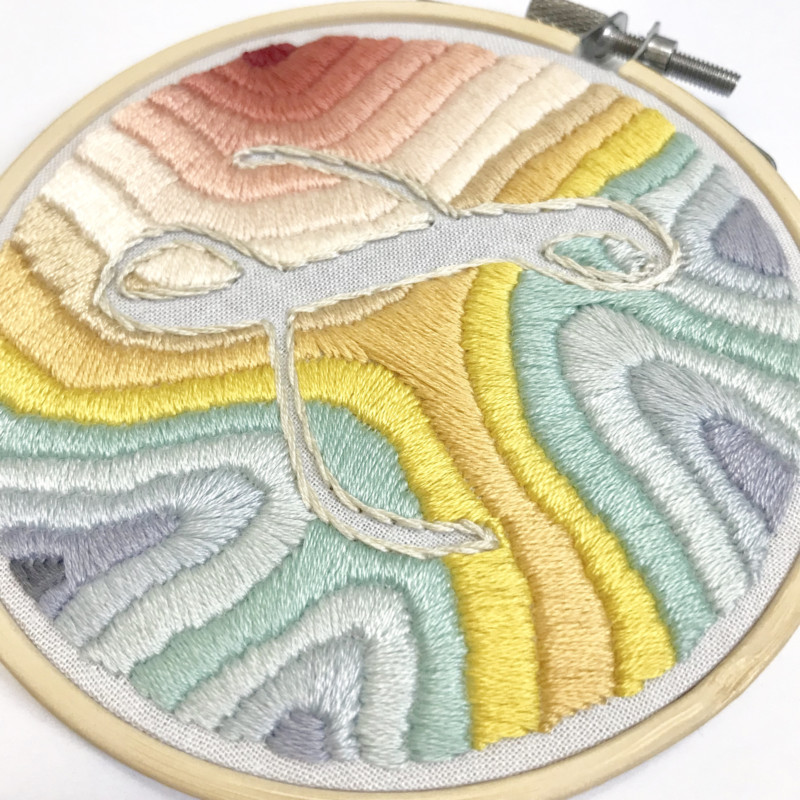 Where does the name Lark Rising come from?
I love this question! The Western Meadowlark is the state bird of Oregon (and like, six other states), where I was born and lived for most of my life. We moved to Seattle, Washington last year, which is just directly north of Oregon. So, the name is in part very literal — this Oregon-grown gal moving North. However, it also represents my desire to continue growing, exploring, conquering obstacles, and rising above my anxieties. I also just love the sound of it. AND, I found out after I opened up shop with this name that there is an absolutely stunning piece of classical music by Ralph Vaughan Williams, called 'The Lark Ascending,' which you should definitely go listen to right away. 
Where would you like to see your work take you?
Honestly, I'm absolutely blown away by how much this little business has grown in just two short years! When I started my Etsy shop, I was just hoping to support my own craft habit and maybe pay our cell phone bill. It's blossomed into so much more than that–not only am I financially contributing to our family in a very real way, but I have this whole new community of artists, makers, crafters, and appreciators on social media that I love. Being a part of that community has been one of the most rewarding parts of it all. So as for future growth, I mostly hope that my work can continue to grow along with me and change to fit in with the ebbs and flows of my life.
Thank you SO much, Lauren, for this excellent interview and for sharing your creative perspective! I love learning about the inner workings of makers, and I especially enjoyed hearing how she transitions from inspiration to the realization of a new piece. And suddenly I find that my hands are itching to give those satin stitches a try. Do you feel it too?
To learn more about Lauren, check out her website here, and if you're in the market for an embroidery pattern or would like an original piece, shop the Lark Rising Etsy store. Meanwhile, if you have absolutely no experience with stitching, might I interest you in a quick lesson here! And finally, if you haven't listened to The Lark Ascending, as she suggests, click here to give it a hear. (I once directed a love scene from Romeo & Juliet which opened and closed with this song, and it will indeed make your heart soar.) Have you ever tried embroidery? Share with me in the comments below!