I suppose it's only natural that when one becomes obsessed with something like a hat, you'll want to eventually have one made to your exact specifications. Well, let me introduce to you my new baby – a hat that I ordered from the O'Farrell Hat Company in Santa Fe, New Mexico.
It took nearly 6 months for this beauty to finally arrive, but it has easily surpassed all my expectations of what a custom hat should be.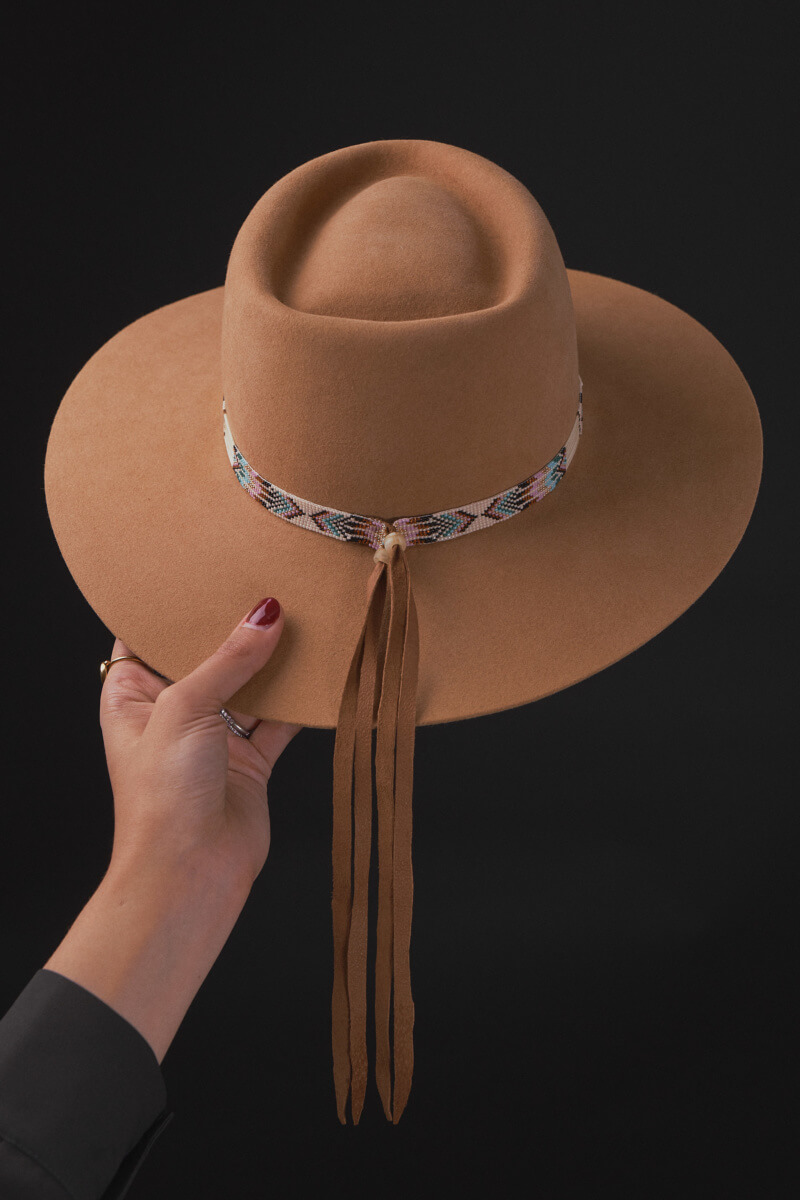 When I strolled into O'Farrell's store, I wasn't actually planning on buying anything. With three hats along with me on the trip, I hardly thought I needed any more, but the allure of the Southwest got me once again and when I saw the special qualities of these hats, I had to know more.
I got to talking with the owner, Scott, about the store, the different styles and makes of his hats, and enjoyed studying the colorful brims that decorated the rustic shop from wall to wall. It was like being in a candy store, the colors, the shapes – an artistic expression of New Mexico style ready to perch majestically on top of my head. As I started to know more, I asked to have my head measured by a rather scary, steampunk contraption that looked more likely to dig into your skull than measure your head. But Scott assured me it wouldn't hurt (it didn't), and I quickly found out that my head is shaped like a lopsided kidney bean (apparently most people's are).
Then, before I knew it, I was talking different materials and colors with Scott.
The best hats have always been made out of beaver, which is why the little guys nearly went extinct at the turn of the century. Everyone had to have their temples topped with the durable, shiny pelts because that's what distinguished men wore atop their head. Well, today it's not different, and though I don't delight in having a hat produced from the fur of any animal, I acknowledge where it comes from and am thankful for it making the ultimate sacrifice. Beaver fur is durable, waterproof, and stiff – producing a product that will last me a lifetime.
After I recovered from recollections of 4th-grade fur trade history playing through my head, I talked color. I have two taupe hats but was eager to have a warm, lovely clay, a neutral that would go with anything and everything. So tan it was.
Next came the brim size. Scott could make me any reasonable length, but as I wanted it to look classic and feminine we went with under 6 inches. The crown of the hat is molded by hand, so he could make any kind of shape I wanted. After trying on at least half a dozen different hat styles in the store, I decided the crumpled front was a little too cowboy, and not at all me. I asked for a smooth crown with a slight taper. (Remember, that at this point, all I'm doing is dictating what I want, I didn't really know if it would all come out alright!)
I asked that they keep the top of the hat short and fitted to my head, more subtle than the super dramatic crowns of your standard cowboy hat.
Then it was all about the hat band – the handmade, beaded belt that tied the whole Southwestern design together. I picked a neutral again (with pops of color!) and a classic diamond pattern in the middle. The sides are adorned with porcupine quills and finished with a delightful fringe tail off the back. Each detail is more beautiful than the next.
And when I finally received my hat, there were other wonderful things to discover! The inside of the hat is cushioned with the family crest of the store's owner and the brim is stamped with my very own name inside!
It fits like a glove and will only get better with age. Needless to say, it was well worth the wait!
To find out more about O'Farrell Hat Company, check out their website here! Have you ever bought a custom hat or article of clothing? Share with me in the comments below! And if you want to know how I display my hats at home, click here!